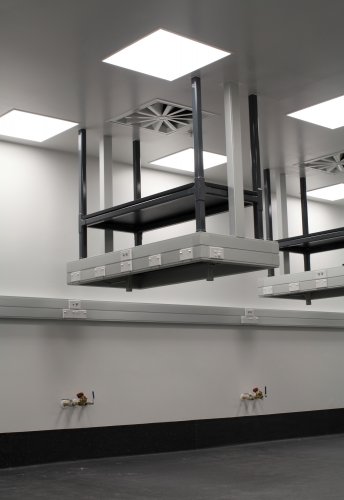 S&T's engineers have led the charge to provide innovative building services solutions at a recent refurbishment of the University of Auckland's Physics Building (303). The building, completed in the late 1960's, has seen various refurbishments over the past few years. These have included an S&T-designed seven-level extension with new computer teaching rooms, study spaces and academic bases for the computer science and software engineering disciplines.
This recent round of refurbishment - to an architectural design by Architectus - will bring the remainder of the building (over 7000m2) up to an international standard and is part of the ongoing campus development - a $1 billion decade-long property refurbishment aimed at propelling this institution ahead of any in the private sector in New Zealand.
Specialist laboratories have been relocated from the upper levels ("the Tower") to free up space for offices and postgraduate use. Teaching space is now centralised on the lower floors. Designers opted to take advantage of the region's temperate climate by installing natural ventilation in the office areas.
Providing world-class natural ventilation is not as simple as opening a few windows. It takes clever engineering to make sure that working conditions utilising natural ventilation systems are to a high standard of comfort and consistent with published benchmarks.
First, the building facade was computer modelled to identify the best mix of performance attributes including thermal, solar, visual amenity and natural ventilation. Then a system was installed that monitors environmental conditions both inside and outside the building. Roof-based sensors take account of rain or wind and inform the high-level automatic windows whether to open and by how much. CO2 sensors monitor the indoor air quality and when levels get to a specified level the windows open for more fresh air.
A night-purge system will improve air quality and reduce energy use by lowering temperatures during warmer months. In summertime, cool fresh air will be pumped overnight through the building from the outside, cooling the raw concrete structure and refreshing the indoor environment. Building occupants may also open lower level windows as they wish, allowing a measure of direct control over the environment.
In contrast to the natural ventilation integrated to the Tower, the physics and optics labs beneath required a completely different approach. These spaces had to conform to highly specific conditions. Temperatures had to be within a controlled narrow band of 22 degrees, +/- 0.1 degree; humidity similarly consistent. S&T successfully incorporated these specifications into the complex building services design.
The work has been staged and all except the final Stage 3B (level 2 offices) is complete. The result is an improved, sustainable, low energy and high-tech research facility that will support university students, faculty and staff for many years to come.
For more information on this or our other engineering projects, please contact Paul Taylor at 09 920 9512 or ptaylor@stephensonturner.com.