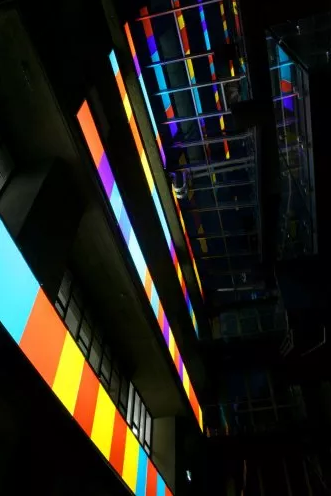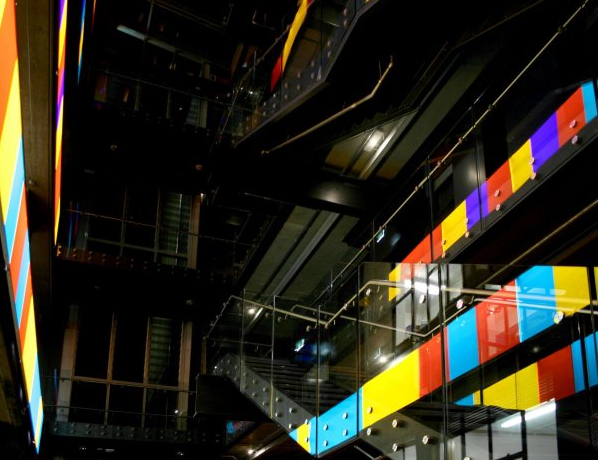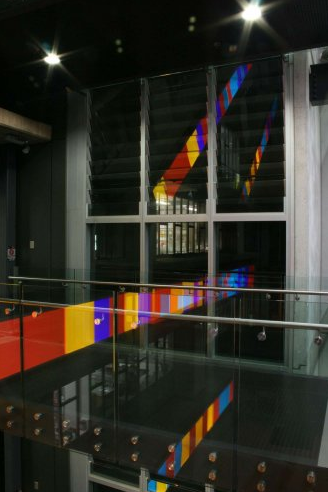 The atrium of the Biosciences Centre (Thomas Building) at the University of Auckland has won the PSP Challenge Architectural (Commercial/Residential) Award for its "DNA" lighting.
The concept of the lighting is described by architect, Bernd Gundermann: "The aesthetic of the link is derived from the inert tension of the space. The rough-textured concrete façade is balanced by layers of filigree, transparent and reflective surfaces; the movement pattern of people along the balconies, bridges or stairways adds an element of fluidity to the perception of the space. The reduced palette of colours and materials compliments the lighting stripes along the concrete spandrels depicting sequences of DNA-mapping – to honor the scientific research that is performed in the nearby spaces. The lighting turns the perception of the space into a drama of multiple layers of ricocheted colour-mazes, which – at night – stream out of the building into the darkness and blur the boundaries of the building."
The lighting was created in association with Modus Lighting, Brightlight and Caldwell-Levesque.